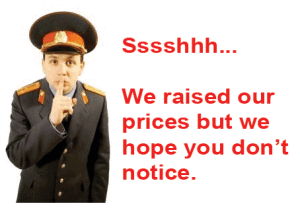 PowWeb is a shared web hosting service that attempts to set itself apart from other hosts by its proprietary "load-balanced hosting"–marketing buzz words as far as I'm concerned, but then, in the shared hosting world, everything is a marketing buzz word. Anyway, back in 2007, I needed a hosting account, and since I had heard good things about PowWeb, I signed up. They had some buy-1-year-get-6-months-free promotion at the time. By averaging out the monthly price of $7.77 (paid annually, of course) over 18 months instead of a year, this reduced the monthly price to $5.18 per month. Not bad.
During my time using PowWeb, I've found their support and service to be excellent for a shared host. Page load times are horrible (my Rackspace Cloud Server has spoiled me), but it's a shared host so I won't complain. The service is very reliable with practically no downtime. I've been a happy customer these past few years–that is, until I got my latest bill.

I'm pretty good at remembering numbers, at least rough numbers, and I knew my hosting was usually about $95 per year, so I was surprised to discover that my latest invoice totalled $111.24:
Dear John,

We hope you're enjoying online success and are pleased
with the service you've received from PowWeb.

A payment for your "[removed]" account is due on 3/21/2010.

On this date, your credit card will automatically be billed for
the amount specified below. To avoid billing difficulties and
service interruptions, please take this opportunity to log in
and review the credit card information currently on file at:
http://www.powweb.com/secureControl/EditCCInfo.bml

Please refer to the invoice below for payment information.
If you have any questions, please call us at 866-476-9932 or
submit a new request by logging into your Support Console:
http://www.powweb.com/member/sconsole/index.bml

Best wishes,
The PowWeb Team

****************************************************************
PowWeb Invoice
PowWeb, 70 Blanchard Road, Burlington, MA 01803
****************************************************************

User's name: John Clark
Billing name: John T Clark
[removed]
[removed]

DATE: 2/28/2010
****************************************************************
PAYMENT NO.: [removed]
ITEM: PowWeb OnePlan
AMOUNT DUE: $111.24
DATE DUE: 3/21/2010

****************************************************************
Note: This invoice constitutes a payment notice for the
product/service mentioned above only. Other payments or services
are invoiced separately. Information on all products and
services for your account, as well as payment receipt
information, is also available at:
http://www.powweb.com/controlpanel/BillingCentral/billingSnapshot.bml
****************************************************************

If you need additional information or would like to change your
billing method, please please call us at 866-476-9932 or
submit a new request by logging into your Support Console:
http://www.powweb.com/member/sconsole/index.bml
****************************************************************
What?! First I got out my calculator and then I got mad. For some unknown reason, without warning or notice, I am being billed an extra $1.50 per month. I immediately contacted support. I usually get a reply back with a few hours max, but this reply took more than a day.
The reply was as follows:
Hello,

Thank you for contacting Support.

We apologize for any inconvenience this may have caused you. We regularly receive feedbacks from our Marketing team and Finance team about the existing trends in the Internet world and depending upon those suggestions we alter the pricing for the customer accounts. Unfortunately, we had to increase the price for your hosting package due to the following reasons:
1. Rising cost of technology and support resources.
2. To control inflation.

Since the changes were affected to the entire customer base in different way having separate pricing criteria, we had to send individual messages to the customers. We felt sending an invoice 21 days prior to the billing date would be the best method. Therefore, you had received the invoice on February 28, 2010 which did include all the information about the price change. [The so-called notice was an email that said how much I was to pay, not that there was a price increase. It's included above.]

However, you are one of our valuable customers. Hence, we will offer you actual price $93.24 per year. If you wish to change your Hosting plan to actual price and then get back to us with confirmation so that we can change your plan to actual price in your account '[removed]'.[I think that means they'll reduce my bill to $7.77 per month but this paragraph barely makes any sense.]

Thank you!

Sincerely,

[removed]
Customer Support
Several things about this reply confuse me. First of all, why do they keep calling $93.24 ($7.77 per month) the "actual price" when it's not the actual price anymore because they are increasing their price?
They are apparently going to charge me the $93.24 for this year (they haven't yet), but that's not good enough. They'll probably just charge me even more next year. I can understand raising prices, but this is a very deceptive method. They could at least have some fine print at the bottom of the email saying, "Oh, and we have increased your monthly hosting package to x." Don't try to hide the fact by giving the customer a total that they won't recognize has been increased. Oh, and if the price increases, increase it for everyone. Don't keep the old regular price on the front page of your website!
I will be moving to a new shared hosting company before my next year's bill arrives. This sort of thing is unacceptable and I refuse to deal with companies that employ such misleading practises.
Goodbye, PowWeb.